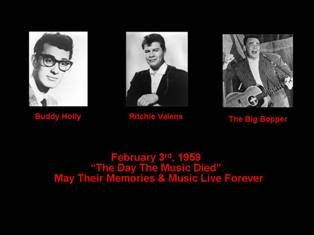 It's been a long time since I posted about something music related on this blog. However considering the title of this blog I cannot let February 3rd pass by without mentioning and remembering what this day means.



49 years ago today a plane crash robbed the world of "Three Stars" - Ritchie Valens, JP "The Big Bopper" Richardson, and Buddy Holly. They will never be forgotten.

WE LOVE YOU AND MISS YOU!!!